We sell frozen curry with the same delicious taste so that you can enjoy our herbal curry at home. Please use it as a gift for your loved ones.
-Frozen Yakuzen Curry with the same delicious taste
We sell freshly prepared medicinal curries as frozen curries in individual servings so that they can be enjoyed at home with their original flavor. It can be used as a stock of healthy food at home or as a gift for your family or loved ones. Please use it for various purposes.
How to serve frozen curry
Frozen curries should be stored in the freezer until ready to serve to preserve quality. When serving, please heat the curry in a microwave oven or in a pot.
(1) Microwaving method
Remove the frozen curry from the freezer and take it out of the packaging bag. Remove the lid of the frozen curry container and cover with plastic wrap. Heat in a microwave oven for 3 minutes to 3 minutes and 30 seconds (500W). When thoroughly heated, remove the plastic wrap and serve. If desired, add other toppings such as pak choi, cheese, onsen tamago (egg), sausage, etc.
(2) How to heat in a pot
The day before serving, transfer the frozen curry to the refrigerator to thaw. Once the frozen curry has thawed in the refrigerator, transfer it to a pot. Heat over low to medium heat in a pot until it comes to a light boil. *We also recommend toppings such as pak choi, cheese, hot spring eggs, sausage, etc., if desired.
We also sell ~10 kinds of colorful vegetables~ homemade medicinal pickles.
This is one of our most popular products along with Yakuzen Curry. We also sell "~10 kinds of colorful vegetables~ homemade Yakuzen pickles" which is made with 10 kinds of vegetables, mainly root vegetables, in our online store.
We hope you will try our pickles, which are made with not only vegetables, but also sugar, vinegar, and other spices used as a secret ingredient.
10 kinds of colorful vegetables, mainly root vegetables
We use a variety of colorful vegetables, mainly root vegetables.
It is quite difficult to consume 10 vegetables at a time. For those who are concerned about their health and are careful about the vegetables they consume, why not try our pickles and easily consume 10 vegetables at once?
The following 10 vegetables are used throughout the year.
(1) red bell pepper, (2) yellow bell pepper, (3) cucumber, (4) zucchini, (5) carrot, (6) lotus root, (7) turnip, (8) young corn, (9) celery, (10) burdock root
Beet sugar, wine vinegar, several spices/herbs
Hokkaido beet sugar, made from sugar beets (sugar beets), is used to sweeten the pickles, and aromatic "wine vinegar" is used for acidity instead of vinegar. Furthermore, as the secret of our unique taste, we use several kinds of spices and herbs for flavor and aroma.
Pickles" are prepared as a supporting role for medicinal curry, but for customers who prefer them, they can also be the star of the show. It is a very convenient product to keep on hand in your refrigerator as one of the side dishes of your daily meals.
Translated with www.DeepL.com/Translator (free version)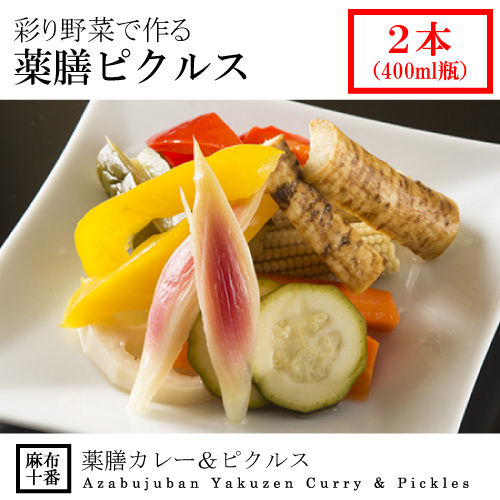 We can ship frozen yakuzen curry nationwide.
Our frozen Yakuzen Curry can be shipped nationwide by Kuroneko Yamato cool delivery service. Please use this service for customers who are unable to visit our stores, or for gifts for family, friends, or loved ones in distant places. Please visit our "Online Store" to purchase.