Azabujuban Yakuzen Curry Shinkai" has started serving three types of vegan Yakuzen Curry from March 1, 2022.
1. vegan Yakuzen Curry
We have wanted to develop a vegan curry for some time because the needs of vegetarians and vegans are increasing year by year, and our healthy medicinal curries are highly compatible with the vegan philosophy. We have been pursuing "delicious and healthy curry," and our challenge has been to achieve "satisfying taste" without using animal-derived ingredients. The vegan Yakuzen Curry has been certified vegan by VegeProject Japan, a non-profit organization, and is made with 100% plant-derived ingredients. Customers who are looking for a vegan meal can enjoy it with peace of mind.

By offering vegan curries, we hope that even more people will enjoy our curries and be pleased with them.
2. introduction of three types of vegan medicinal curries
We would like to introduce three types of vegan medicinal curries that we have developed at our restaurant.
V1: Yakuzen soup curry with soybean meat and vegetable broth
Using 100% vegetable broth of plant origin for the base stock, we have recreated the taste of our most popular Sri Lankan-style medicinal curry. While the sweetness, sourness, and richness characteristic of Sri Lankan curry can be felt, the aroma and flavor impact of more than 20 spices and herbs is unforgettable once you try it. Instead of the grilled chicken usually used, additive-free soybean meat is carefully seasoned and grilled. 142.2 kcal / 5.6 g protein / 8.3 g fat / 11.4 g carbohydrate (per 195 g serving *Roux only)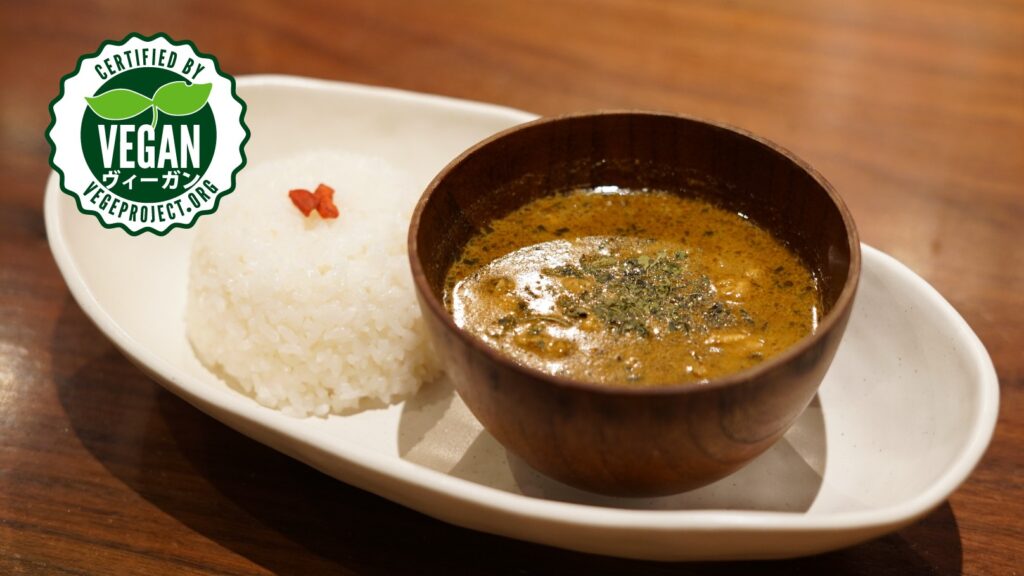 V2. Yakuzen Keema Curry with Island Tofu and Vegetable Broth
The base soup stock is made from 100% vegetable broth of plant origin. The "island tofu," a specialty of Okinawa, is slowly rehydrated and then carefully broken down to give it the texture of homemade soybean meat (minced). Plenty of onions and tomatoes are slowly sauteed to concentrate the flavor. The sweetness from the island tofu, the flavor of the vegetable broth, and the spices combine to create a luxurious dish. 168kcal / 8.3g protein / 10.2g fat / 10.7g sugar (per 160g serving *Roux only)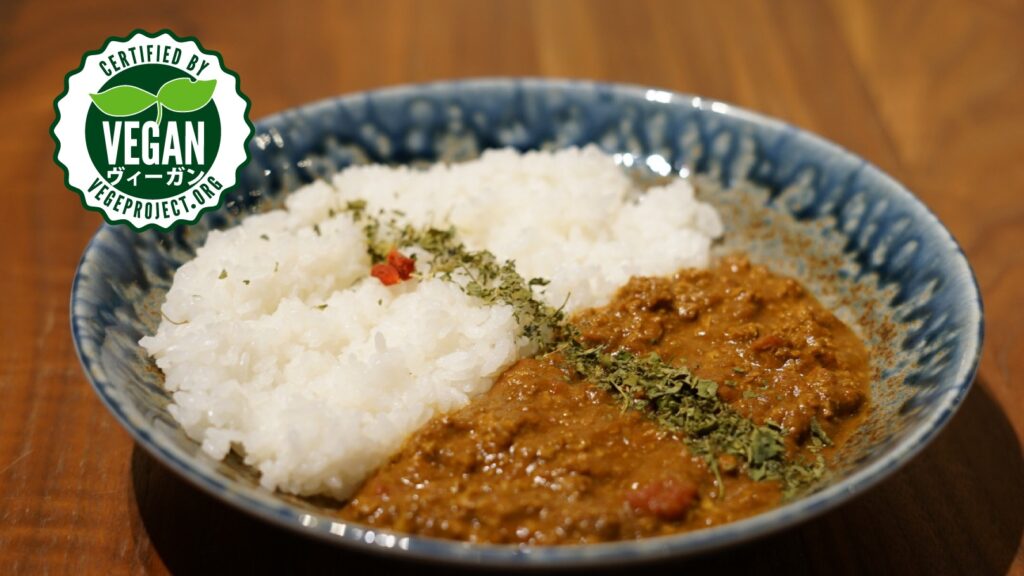 V3. 2 kinds of beans and plenty of vegetables in yakuzen curry
The base curry is made from 100% vegetable broth of plant origin. Curry ingredients include plenty of onions, carrots, chickpeas, and lentils. Unlike most gentle bean curries, our unique 17 spices give the curry a firm spicy feel and a flavor that is unique to our restaurant, and the vegetables are used in abundance. 206.4kcal / 8.3g protein / 13.3g fat / 13.4g sugar (per 160g serving * roux only)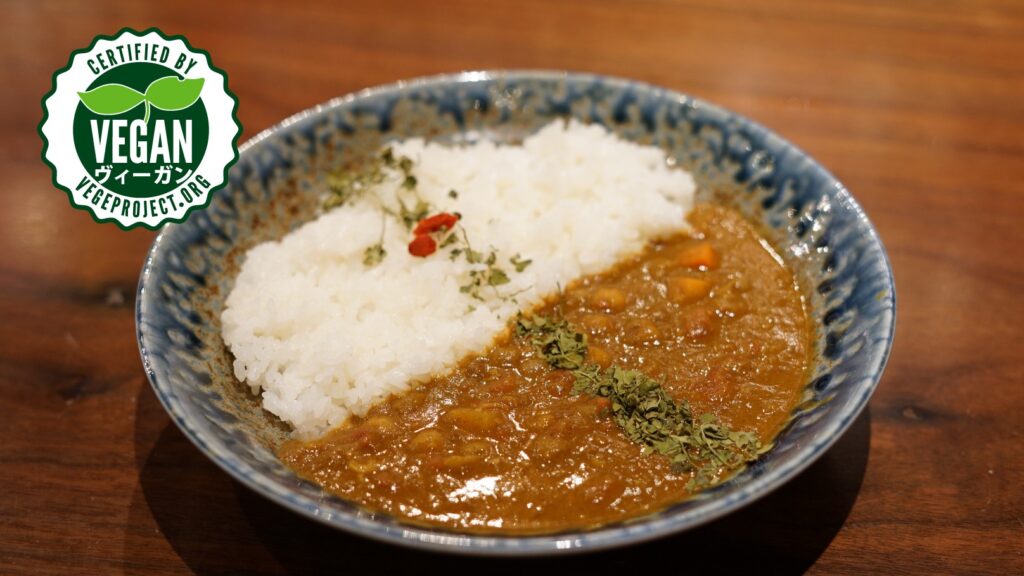 0Price offered in the store
| | | | | |
| --- | --- | --- | --- | --- |
| | half | normal | Large serving | extra large portion (e.g. of a meal) |
| Lunch | – | 1000yen | 1,200 yen | 1400yen |
| Happy Hour | – | 1100 yen | 1320 yen | 1540 yen |
| Dinner | 880yen | 1320yen | 1540 yen | 1760yen |
All prices include tax. *All prices from V1 to V3 are the same.
3. introduction of take-out/delivery
Vegan Yakuzen Curry is available for take-out and delivery.
Take-out
Take-out is available in all our restaurants. Please click here to order.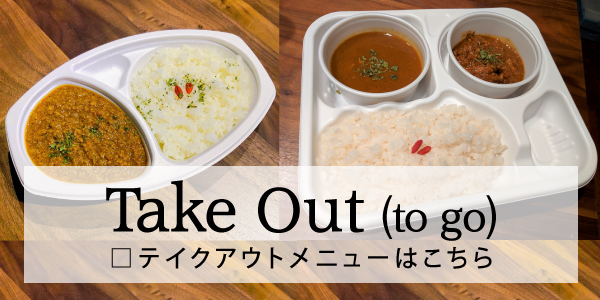 Delivery
UberEATS, Dazekan, Wolt, and MENU delivery services are available.
4. introduction of online store
Frozen curry is available in our online store. The newly developed "Vegan Yakuzen Curry" will be added to the product lineup in due course. Azabujuban Yakuzen Curry Shinkai Online Shop
[su_button url="https://store.azabucurry.com" target="blank" background="#ef862d" icon="icon: shopping-cart"]Online Shop[/su_button]
5. Inquiries regarding this matter
Please use the inquiry form below for inquiries regarding vegan medicinal curries.
[su_button url="https://azabucurry.com/contact2/" background="#ef862d" icon="icon: envelope-o"]Contact Form[/su_button]