Thank you very much for your continued patronage of Azabujuban Yakuzen Curry.
Today, we would like to announce a TV broadcast. Mr. Ishizuka from Honjamaka and Ms. Asuka Kijima, a weather girl from ZIP, introduced us in the "Merengue no kimochi" of Nippon Television Network Corporation, which aired on January 30, 2021.
We have had many customers in the entertainment industry before, including announcers, models, actresses, comedians, etc. Many of them are now ordering from UberEATS, especially since it is difficult for them to visit our restaurant.
This time, Asuka Kijima, the weather girl from ZIP! who loves spice curry, introduces her favorite spice curry restaurants in Tokyo.
Asuka Kijima, a weather girl who loves spice curry, introduces her favorite spice curry restaurants in Tokyo.
Ms. Takashima ordered our curry UberEATS and enjoyed it.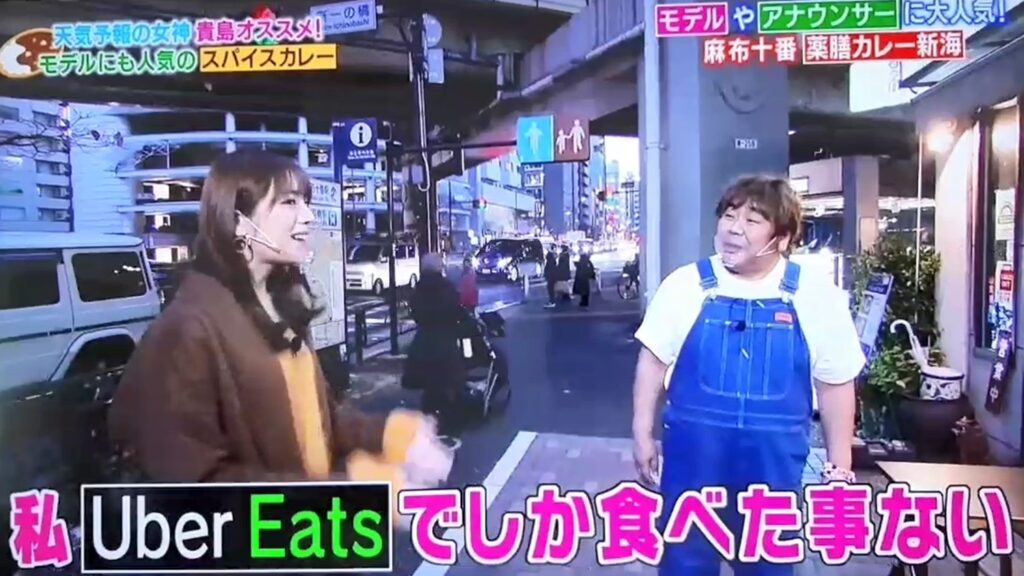 Introduced in the broadcast were our signature "Sri Lankan style medicinal curry" and our all-you-can-eat "homemade pickles" available for lunch only!
We were photographed from the preparation stage and introduced the mixed spice blend of 17 different spices, which is our speciality, as well as the chicken stock and coconut milk base.
We were very happy that they both enjoyed the food.
As for the content of the broadcast, the editing of the video was excellent, and the several separate shots were exquisitely pieced together.
The explanations were precise, and the appeal of our curry was condensed, for which we are very grateful.
The following three restaurants, including our restaurant, were introduced in this broadcast.
"Old Yam Residence" in Shimokitazawa
"Mikazuki Curry SAMURAI" in Shimokitazawa
"Azabu-juban Yakuzen Curry Shinkai" in Azabu-juban←This restaurant★
Both of our stores in Shimokitazawa are very popular, and we are very honored to be featured with them.
Thank you to Mr. Ishizuka, Mr. Kijima, and all the staff for coming to our stores.
We hope this will be a good opportunity for customers who have never heard of our restaurant to get to know us!
(Image source: "Merengue no kimochi," Nippon Television Network Corporation, broadcast on 1/30)